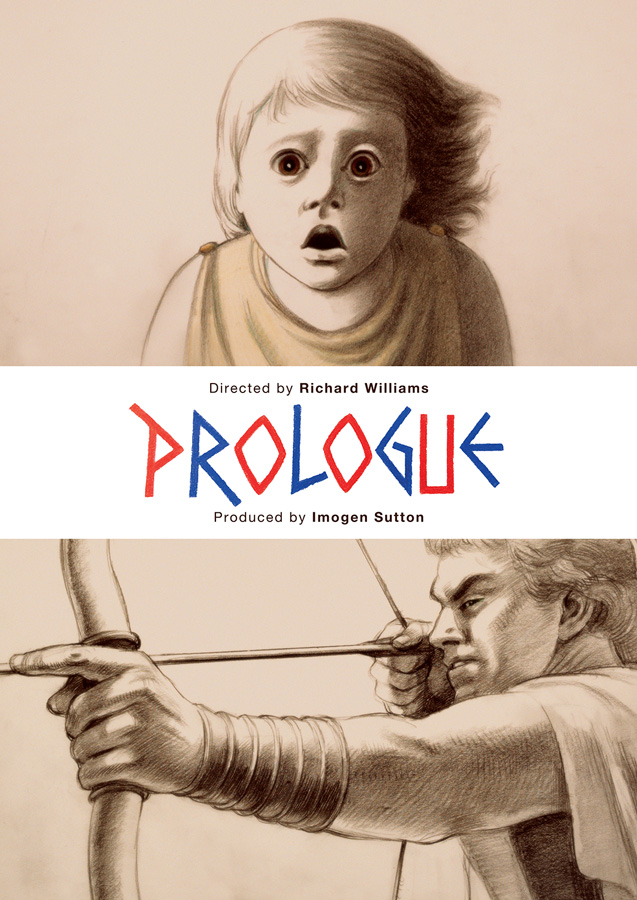 "Already hailed as 'one of the best hand-drawn short films of all time' PROLOGUE is a ground-breaking animated film directed and animated by Richard Williams and produced by Imogen Sutton."
The film is to be screened in Los Angles at Laemmle Royal Theater West LA from Friday 11th September for seven days. Matinee show - exact time TBA. See http://www.laemmle.com/theaters/1 for further information.
The film will be screened at the Encounters short film and animation festival in Bristol on 18th September at 2pm
Director/Animator: Richard Williams; Producer: Imogen Sutton; Sound Design: Adrian Rhodes; compositor: Bram Tthweam; DCP, 6' col. print source: Imogen Sutton, Richard Williams, Bristol.
"We have just witnessed animation history", declared Peter Lord, co-founder of Aardman Studios, following the first screening of Prologue in Summer 2015; "Nobody else alive could have created hand-drawn animation of this intensity and quality..."  Other commentators have hailed it as "one of the best hand-drawn films of all time".
Its six minutes describe an incident in the Spartan-Athenian wars of 2400 years ago. A small girl is witness, as warriors battle to the death. It has no dialogue, but natural sounds. Richard Williams has worked on the film for many years, between other projects. Begun in Canada on a small island near Vancouver, the work continued in West Wales and was completed this year in Bristol, at Aardman Studios.
Drawing and animating the film alone, Richard Williams has taken hand-drawn animation to a new level of expertise and impact. Breaking animation conventions, the film has an innovative mastery of movement and space, at the same time achieving dramatic and emotional intensity. Williams and Sutton acknowledge the inspiration of Kurosawa but also of the language of silent films.
Williams says, "I've gone back to 1900 and drawn each shot on a new sheet of paper. Then it's polished with state of the art technology. It has taken over 6,000 complex animated life drawings to create this film." Each of them astonishes with Old Master precision. Richard Williams is a great draughtsman as well as a uniquely gifted, multi-Oscar-honoured animator.
Richard Williams will present Prologue and the work print of The Thief and the Cobbler – A Moment in Time during the festival, followed by a Q&A with the audience.
Taking the globally bestselling Kit to a whole new dimension, this stunningly rich iBook provides the underlying principles that every animator needs. Aspiring or professional, digital, classical or stop motion, animators can now engage with Williams and his work like never before. Watch new short films or interact with over 100 animated examples - learn from the legend himself.
Features:
the complete 'Expanded Edition' of 'The Animator's Survival Kit'
over 100 animated examples from 'The Animator's Survival Kit Animated' DVD box set
newly released short animations by Richard Williams, including a 9-minute film, 'Circus Drawings'
new pieces-to-camera from Richard Williams to put the ebook in context
Six years ago the logo for "THE ANIMATOR'S SURVIVAL KIT ANIMATED" 16 dvd box-set was finished on 35mm film but it is only now with advanced 4K digital technology that the stunning detail of the original can be shared online. Watch on YouTube
http://www.oscars.org/events-exhibitions/events/2013/10/this-amazing-medium.html
http://www.encounters-festival.org.uk/richard-williams-master-animator.html
http://www.cartoonbrew.com/animators/happy-80th-birthday-richard-williams-79469.html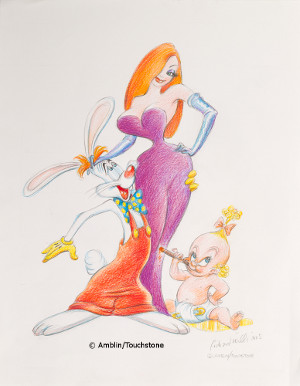 Famous animators from Aardman Animations and all around the world have donated unique artwork for an online auction to raise money for Wallace & Gromit's Grand Appeal.
As well as a specially created painting by Wallace & Gromit creator and Grand Appeal patron Nick Park, other lots in the exclusive online charity auction will include a hand-drawn Roger Rabbit artwork, a Peter Lord Morph artwork and a unique drawing featuring the well-loved character Mr Fredrickson from the motion picture Up donated by Disney-Pixar.
This exciting auction will be hosted on eBay from 1st to 10th November, with all proceeds going to the Grand Appeal. Over 30 artworks have been donated by the world's most renowned animation artists. With rare and exclusive artwork up for auction, the auction will raise funds towards the Cardiac Appeal to support the Cardiac Ward at Bristol Children's Hospital.
www.grandappeal.org.uk/auction
http://www.cartoonbrew.com/animators/2009-brew-holiday-gift-guide-1-richard-wiliams-masterclass.html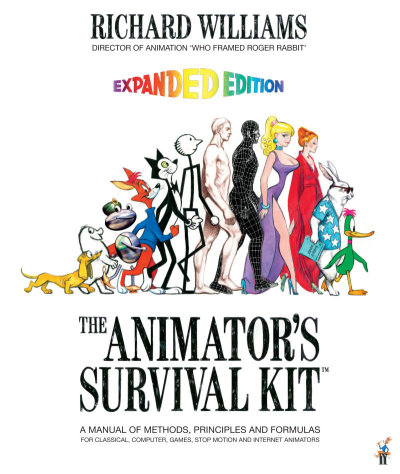 Richard Williams is on the BBC World Service talking about the new edition of his book - "The Animator's Survival Kit -Expanded Edition". In the UK the first broadcast will be on 'The Strand' an arts programme at 10.30 on Thursday 3rd December. But this will be repeated after that and will also appear on the BBC World Service website. Around the world the broadcast can be heard at other times from Thursday 3rd December onwards.
http://www.oscars.org/events-exhibitions/events/2009/kahl.html
"Why should you buy a 16-DVD box set called The Animator's Survival Kit - Animated?...Straight answer: You should. It works. And maybe there is something cheaper, but Jiminy Cricket, no, there is nothing better than the Richard Williams' Animation Masterclass.
When I met Jeffrey Katzenberg during his presentation of Monsters vs. Aliens last December in Berlin, I asked him about his experience working with Williams. (They both worked on Roger Rabbit while Katzenberg was head of Disney Feature Animation.) He told me, "Richard is one of the most original and genuinely brilliant artists I have worked with over the years -- he has one of the most vivid imaginations of anybody I know. He has a beautiful, creative sensibility value. He is a very unique, very visionary artist and storyteller." something cheaper, but Jiminy Cricket, no, there is nothing better than the Richard Williams' Animation Masterclass."
Read the full review at http://mag.awn.com/index.php?ltype=pageone&article_no=3875.
http://splinedoctors.com/2008/11/richard-williams-spline-cast/.